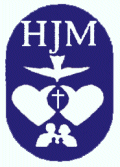 The Hearts of Jesus and Mary Prayer Community (HJM) is a prayer group based in the Parish of St Andrew the Apostle in Marayong. It is part of the worldwide Catholic Charismatic Renewal movement within the Catholic Church that seeks to foster:
a deeper personal relationship with God through Jesus Christ;

an awareness of the person, presence and power of the Holy Spirit;

acceptance and use of the many gifts of God's spirit;

evangelisation and proclamation of the Gospel in word and deed;

growth in holiness through active participation in the life of the Church.
HJM works to enrich the prayer life of its members and to extend Jesus' loving hand to others. The focal point of the prayer community is its regular prayer meetings, where the community praises God in song and prayer, listens to and meditates on God's word, and offers intercessory prayers for the healing of the sick. Spiritual growth is further nurtured through regular Bible cells where members share and reflect on personal faith experiences to gain a more profound understanding of Scripture.
HJM's outreach activities include aged care home visitation and support of charitable works. HJM serves the parish by providing music during Mass, cleaning the church and assisting in liturgy. HJM also conducts Life in the Spirit Seminars and other faith formation sessions.
The HJM's desire to bring God's love and grace to all who would receive it is reflected in its vision statement:
To be a group of people journeying together in faith, guided by the Spirit of God, growing and learning from each other, and whose life as a whole follows the footsteps of the Master Himself… that is, a life of prayer and active, loving service to others.
HJM welcomes all parishioners to its prayer meetings, which we hold at the Fr. Kenneth Byrne Centre (38 Breakfast Road, Marayong NSW 2148) every 7:30pm of the second and fourth Saturday of the month. Details of other HJM upcoming activities are available from the Parish Office, as well as from our newsletter, the Heart to Heart.